What separates a good digital marketing agency from all the others? First, let's take a look at some of the tools and strategies that we use here at Zielinski Design Associates. As of 2019, there is virtually an endless number of available digital marketing channels at our disposal. In this article, let's focus on some of the biggest players:
Google Organic Search (SEO)
Google Ads
Facebook Ads
Organic Search SEO
Google is an essential tool for any digital marketing agency. According to Amazon's Alexa, it is currently the most visited site on the web, and each visitor uses it an average of 9.79 times a day. There are a plethora of ways a digital marketing agency can utilize Google, but for now, let's just focus on organic search.

Organic search results are displayed directly beneath the paid Google Ads. One of the reasons for writing this article is actually to rank organically for the keyword phrase digital marketing agency. Google has always done a great job displaying accurate and relevant search results for users.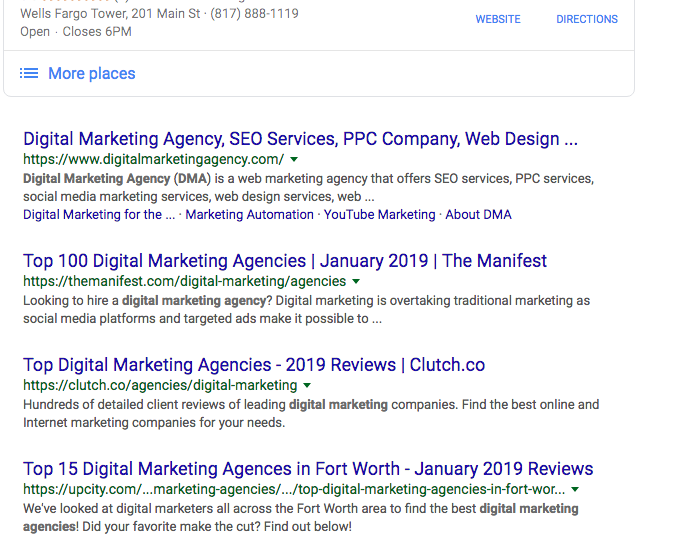 Using a resource like Ubersuggest by Neil Patel, we can see that the keyword phrase digital marketing agency has the following statistics.
Search Volume: 14,800 (High)
SEO Difficulty: 38 (Medium)
Paid Difficulty: 67 (Hard)
Cost per Click: $22.11
Ranking #1 or even on the first page for a specific keyword phrase is priceless. Yet, ranking on the first page costs nothing. A Digital marketing agency should definitely have the Search Engine Optimization (SEO) skills and strategy to rank competitively for appropriate keyword phrases. It's not always so easy though. Neil Patel lets us know that "This keyword is competitive. There is a 62% chance you can rank in the top 20." Let the games begin!
Here are some of the best free tools and resources that Zielinski Design Associates utilizes for our success in organic search results:
Google Ads
The top of the Search Engine Results Page (SERP) is so valuable, you can pay your way to the top of it. Google Ads are the paid search results at the top of a results page. These ads are text only. Every time someone clicks on a paid ad, they spend money. This is very different than organic search, but from a strategy standpoint, is an essential tool to have in your digital marketing arsenal. Below is a screenshot of a few paid Google Ads when the keyword phrase digital marketing agency was searched for.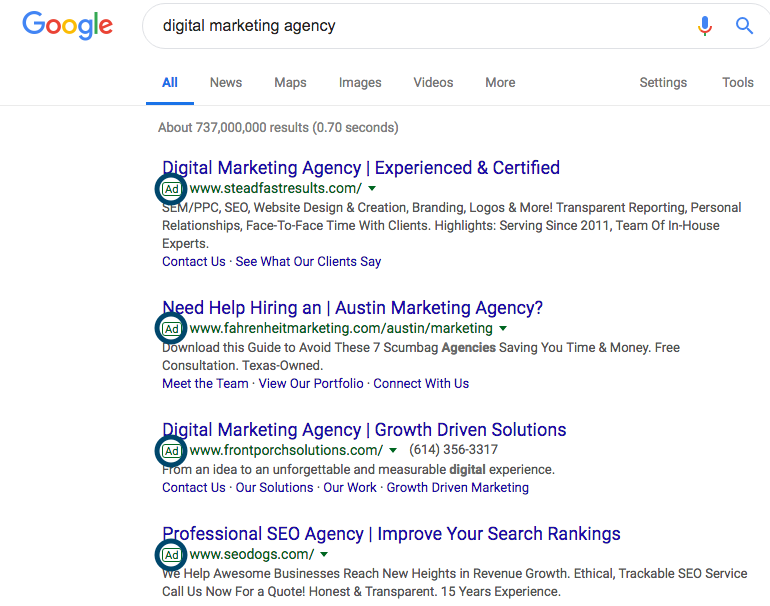 As mentioned a little bit earlier, each time anyone clicks on a pay-per-click ad they will be charged an estimated $22.11. This just goes to show you how valuable the top 5 organic search results can be. Some advantages of using Google Ads versus ranking organically in search are the following:
Get traffic promptly – Ranking in organic SEO takes more work and more time
Ability to target local regions – You can precisely control what geographical audience will see your paid ads
Ability to designate the time slots to show the ad
Allows for Zealous Ad wording and landing pages
Facebook Ads
Both Google and are fundamental for any digital marketing strategy. Facebook Ads are different than Google Ads.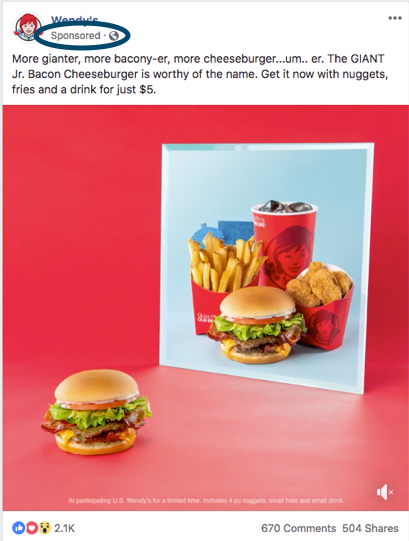 What is the difference? The significant difference is that Facebook helps businesses find prospective customers, whereas, Google helps those customers find your business. How do you target your potential customers using Facebook? The answer is with the powerful Facebook Analytics Audience Insights and Facebook Pixel.
Facebook Analytics Audience Insights
The Facebook Analytics Audience Insights gives you the ability to target the perfect audience for your needs. The general audience insights available in Facebook are the following:
Location
Age and Gender
Relationship Status
Education Level
Job Title
Interests
Connections
After selecting a few or all of the above options, we get even more targeting options available. We get to see our chosen audiences' Top Categories and the Page Likes for those Categories. Below are some of the top categories for 30-40 year old women who live in Texas and are interested in Aerobic Exercise: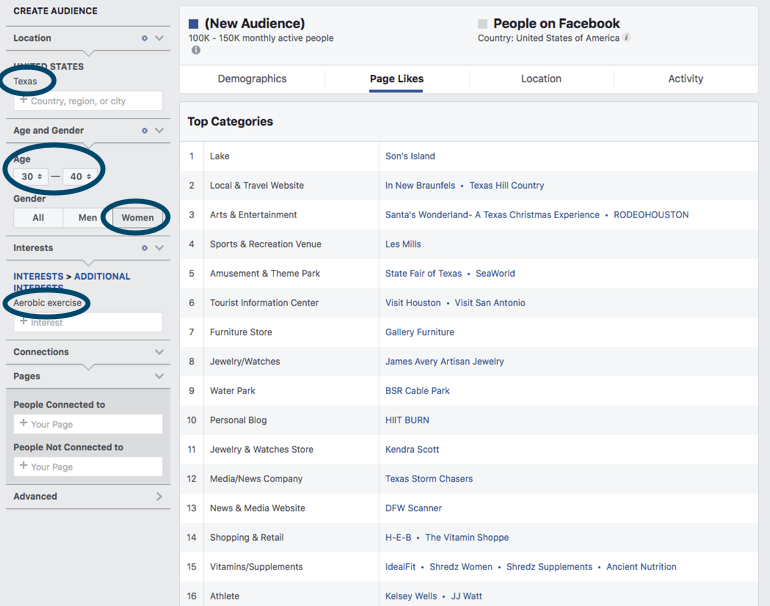 Local & Travel Website – In New Braunfels / Texas Hill Country
Lake – Son's island
Education Company – Les Mills
Arts& Entertainment – Santa's Wonderland – A Texas Christmas
Experience / RODEOHOUSTON
Amusement & Theme Park – State Fair of Texas / SeaWorld
Tourist Information Center – Visit Houston / Visit San Antonio
Furniture Store – Gallery Furniture
Jewelry/Watches – James Avery Artisan Jewelry
Water Park – BSR Cable Park
Personal Blog – HIT BURN
The list goes on and on. The ability to target a very defined audience using the audience insights is powerful stuff.
Facebook Pixel
The Facebook PIxel is another significant component to Facebook Ads giving you even more control of campaigns. It is a small chunk of code that connects your Facebook Ads to your website. This gives you the ability to utilize different ads based on the people that have gone explicitly to your website homepage, or only to your blog, or selected a few products pages, etc.
Conclusion
The tools, resources, and strategies mentioned in this article barely scratch the surface of the current Digital Marketing landscape. It is essential for any digital marketing agency to understand all of the tools and they work together.
By diagnosing your business and marketing efforts first, Zielinski Design Associates can build your brand, sell your product and build your reputation with coherent action. Learn more at Zielinski Design Associates or call us at 214-560-4209.